Have you ever thought about how websites are made? Or how some websites look so good without a big team behind them? The answer is simple: AI website creators. These tools help people, like you and me, make websites easily.
They use smart tech to do the hard work. So, you don't need to be a tech expert to have a great website. In this guide, we'll explore the best AI website creator tools out there. And by the end, you'll know which one is right for you.
You can also explore our in-depth article: Top 7 Ultimate AI Tools For Web Development: A Match Made In Heaven
What is an AI Website Creator?
An AI website creator is like a magic tool. It helps you make a website without needing to know all the tech stuff. Imagine having a smart friend who knows a lot about websites.
You tell this friend what you want, and they make it for you. That's what an AI website creator does! It listens to what you need and then builds a website just for you. Cool, right?
The Best AI Website Creator Tools
1. Wix ADI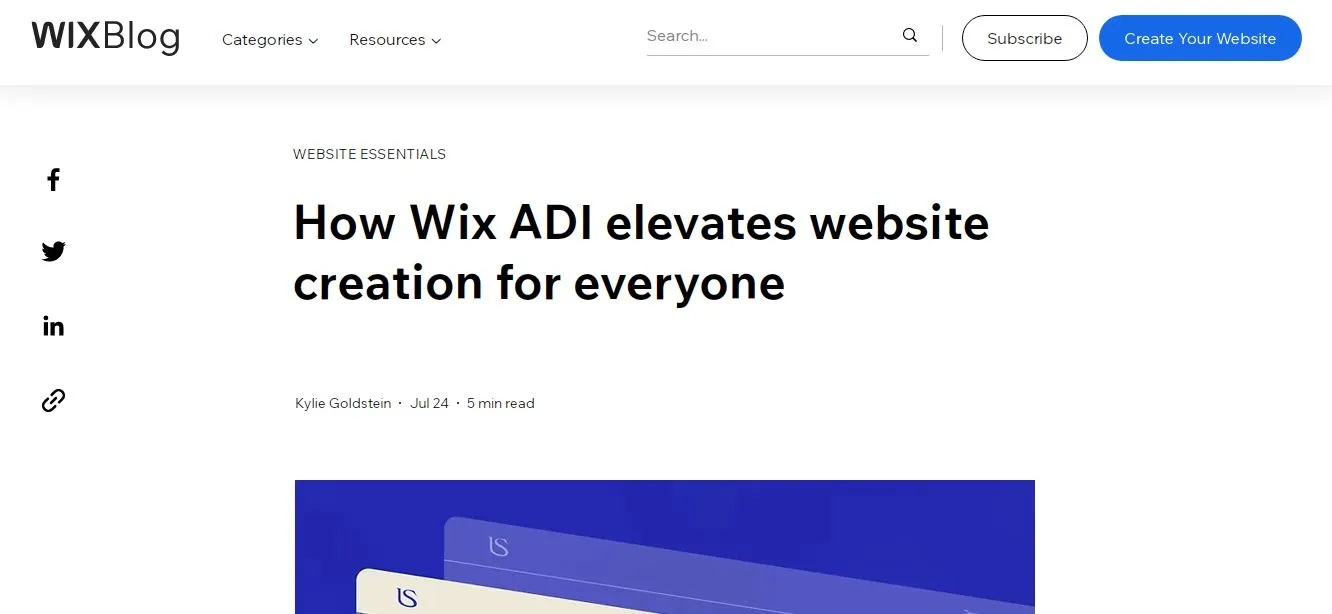 Wix ADI stands out in the world of [AI website creators]. Imagine a tool that's like a digital artist, ready to paint your online canvas. You start by answering a few questions.
Maybe you're a baker wanting to showcase your cakes, or perhaps you're a photographer eager to display your shots. Whatever your dream, Wix ADI listens.
Once it understands your vision, this AI website creator gets to work. It pulls from a vast library of designs, layouts, and features. In minutes, you have a draft website. But it doesn't stop there.
Wix ADI ensures that your site is mobile-optimized, ensuring visitors get the best experience, whether they're on a laptop or phone.
But what if you want to add personal touches? No problem. Wix ADI is flexible. You can tweak colors, add sections, or even integrate a blog. It's user-friendly, making it a favorite for both beginners and those who've built websites before.
2. Hostinger AI Website Builder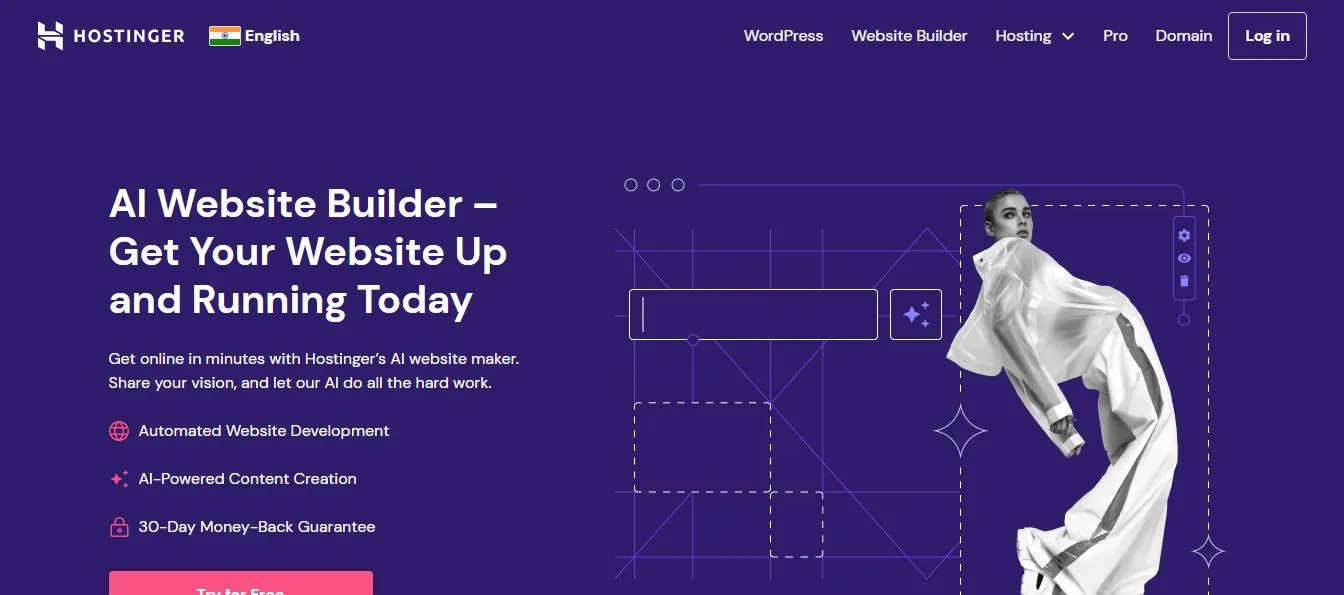 Hostinger's AI website creator is like a Swiss army knife for website building. It's packed with features, each designed to make your online journey smooth.
The process begins simply. You provide a brief description, maybe you're launching a yoga studio or starting a travel blog. Hostinger listens.
Using advanced AI, it crafts a site tailored to your needs. But it's not just about looks. Hostinger knows that a good website needs strong foundations.
That's why it ensures fast load times and seamless navigation. Plus, with its in-built SEO tools, your site is primed to rank well on search engines.
And for those wanting to sell online? Hostinger has you covered. Its AI website creator integrates e-commerce tools effortlessly, turning your site into an online store.
With secure payment gateways and easy product uploads, it's an e-commerce dream.
3. Divi AI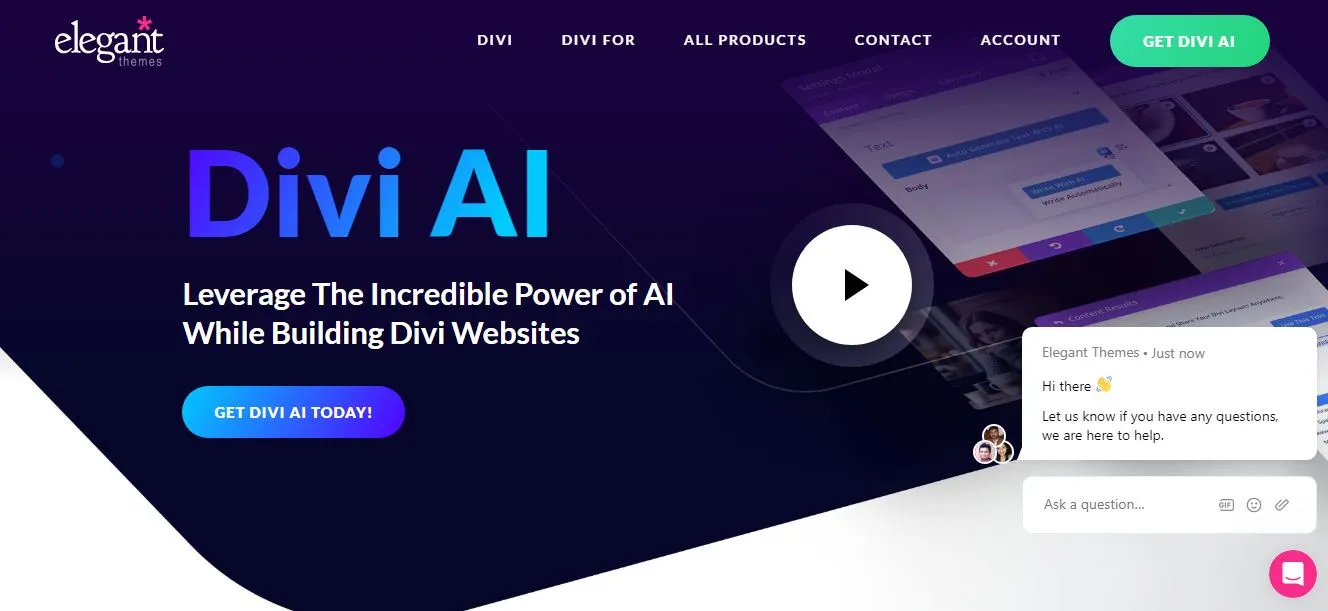 For WordPress enthusiasts, Divi AI is a game-changer. This AI website creator is like having a digital buddy, guiding you through the website creation maze. You start with an idea, and Divi AI brings it to life.
The magic lies in its intuitive design process. Instead of overwhelming you with choices, Divi AI offers smart suggestions.
It might propose a sleek layout for your tech blog or a vibrant design for your art portfolio. As you make choices, Divi AI learns, refining its suggestions.
But it's not just about aesthetics. Divi AI ensures your site is functional. Whether you want to add a contact form, integrate social media, or even start a newsletter, it's all possible.
And for those who love diving into details, Divi AI offers advanced customization, ensuring your site is truly unique.
4. Framer AI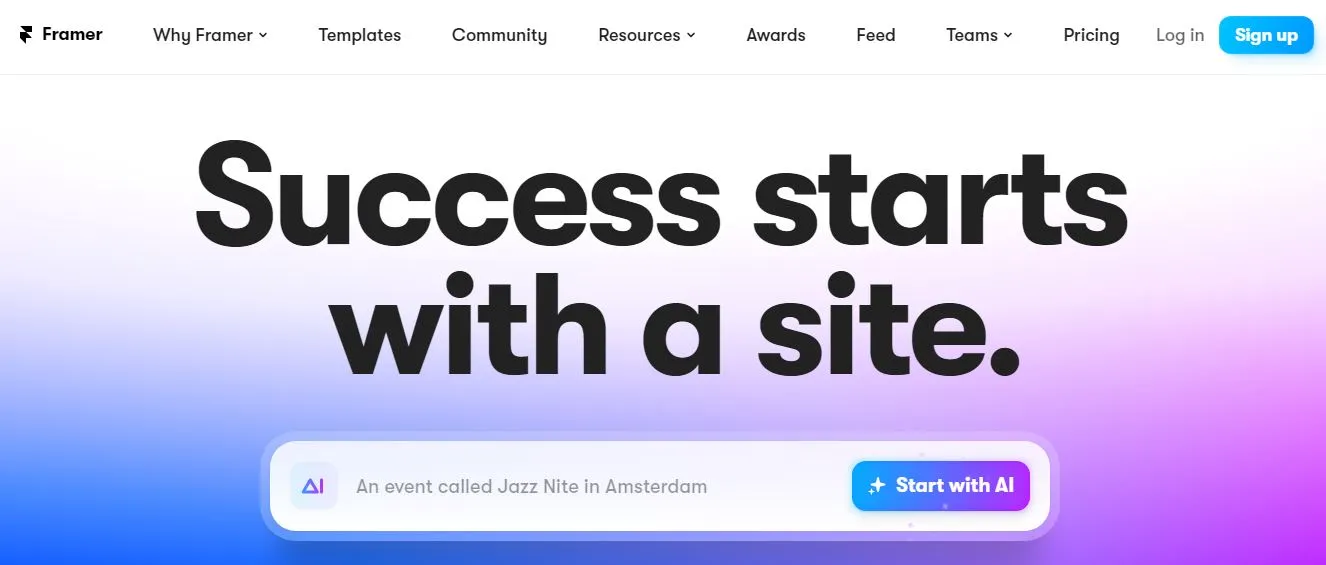 In the realm of AI website creators, Framer AI is the design maestro. It's built for those who want their website to not just work, but to dazzle. From the get-go, Framer AI immerses you in a world of design possibilities.
You might be wondering, "Do I need design skills?" The answer is no. Framer AI is your design partner. It offers suggestions, from color palettes to typography. And as you make choices, it crafts a site that's visually stunning.
But Framer AI knows that beauty needs brains. That's why it ensures your site is user-friendly. Menus are intuitive, pages load quickly, and the mobile experience is seamless.
Plus, with its suite of tools, you can add features like galleries, blogs, or even online booking systems.
5. 10Web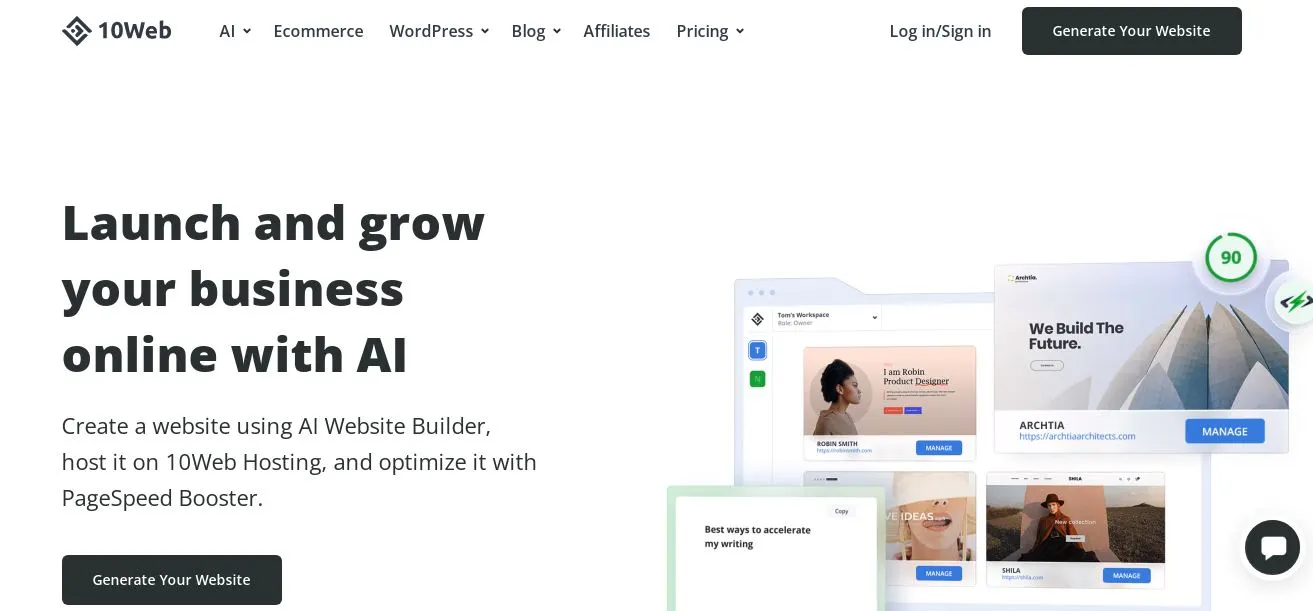 10Web is the all-rounder of [AI website creators]. It's designed for those who want a robust website without the fuss. The journey starts with a vision.
Maybe you want a personal blog, or perhaps you're launching an online store. Share your dream with 10Web, and watch it take shape.
Using AI, 10Web crafts a site that's both beautiful and functional. It chooses layouts that engage visitors, ensuring they stay longer and explore more. And with its focus on user experience, navigation is a breeze.
But 10Web's magic lies in its features. Want to start a blog? It's a click away. Eager to sell products? Integrate an e-commerce platform effortlessly.
And for those keen on growing their audience, 10Web's SEO tools ensure your site gets the visibility it deserves.
6. Bookmark AiDA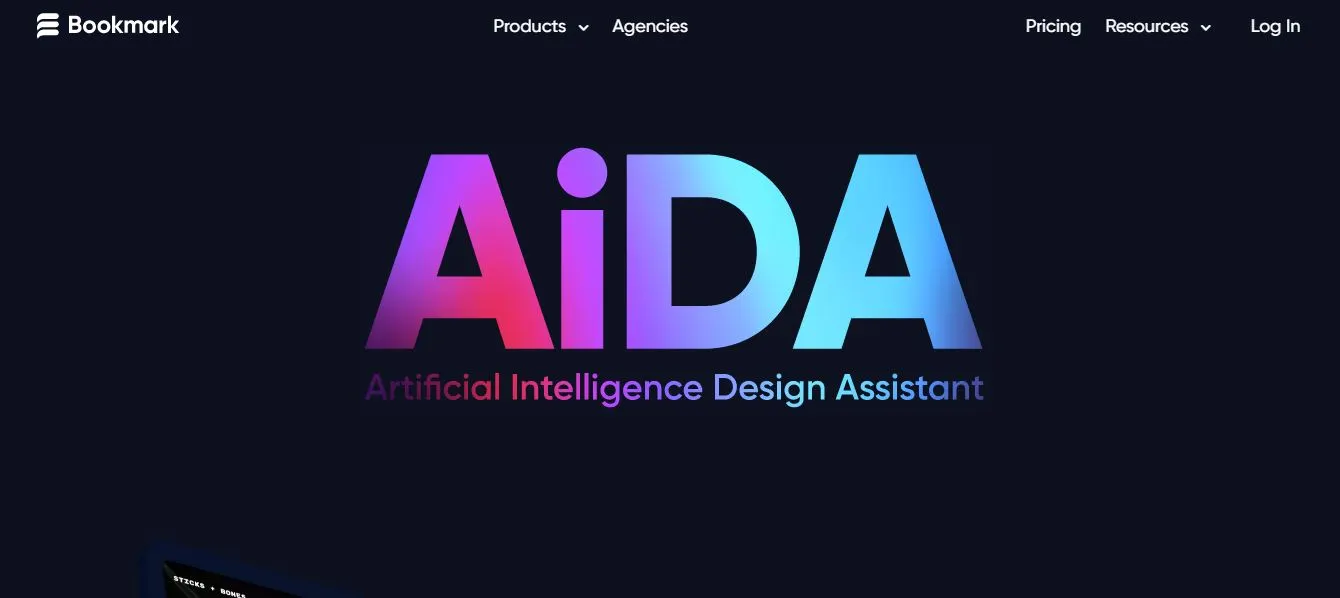 Bookmark AiDA is like that friend who always knows the latest trends. This AI website creator is all about staying ahead of the curve. When you start with AiDA, you're not just building a website; you're crafting an experience.
You begin by sharing your vision. Maybe you're a musician wanting to share your tracks, or perhaps you're a small business owner looking to expand online.
AiDA listens and then dives into its vast design pool. The result? A website that's not just modern but future-ready.
But AiDA's charm doesn't stop at design. It ensures your website is easy for visitors to use. Pages load in a snap, links are easy to find, and the overall flow feels natural.
Plus, if you ever want to add features, AiDA's got a whole toolbox waiting. From email sign-ups to video integrations, it's all possible.
7. GetResponse AI Builder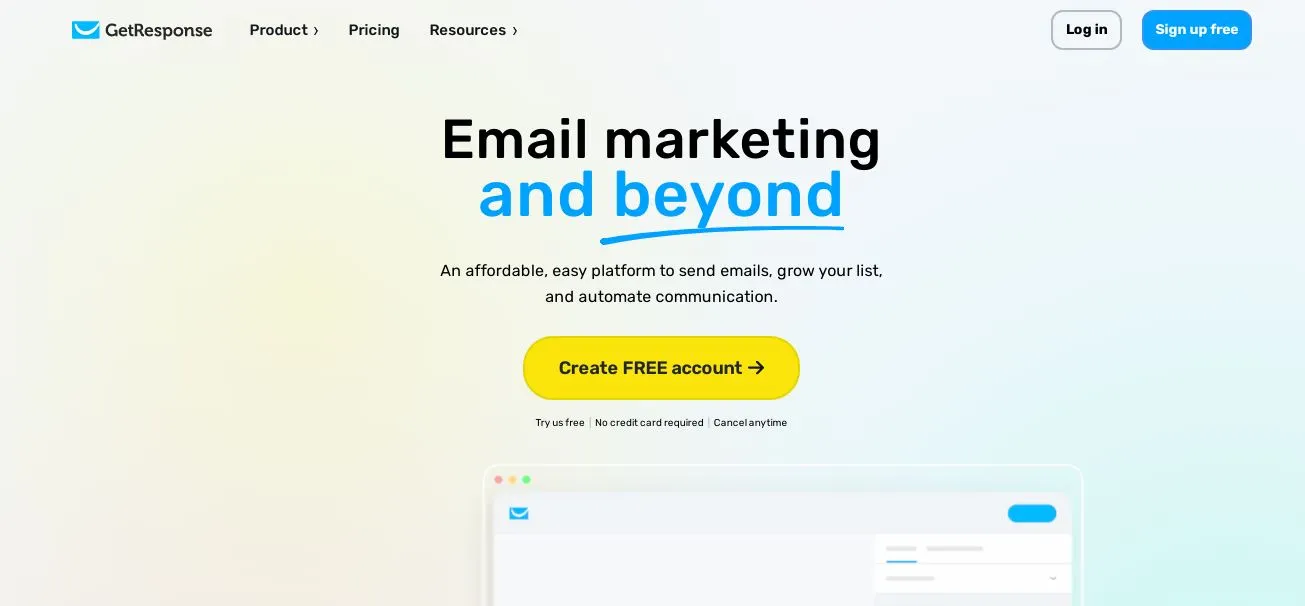 GetResponse AI Builder is the AI website creator for those who mean business. It's not just about crafting a site; it's about building an online empire. From the moment you start, GetResponse is all about results.
You might want a website to sell products, generate leads, or maybe just share your story. Whatever your goal, GetResponse crafts a strategy. It picks designs that convert, layouts that engage, and features that drive results.
But what truly sets GetResponse apart is its marketing prowess. Built-in tools help you grow your audience, from email campaigns to landing pages.
And with its AI-driven insights, you're always one step ahead, knowing what your visitors want before they do.
8. ClickUp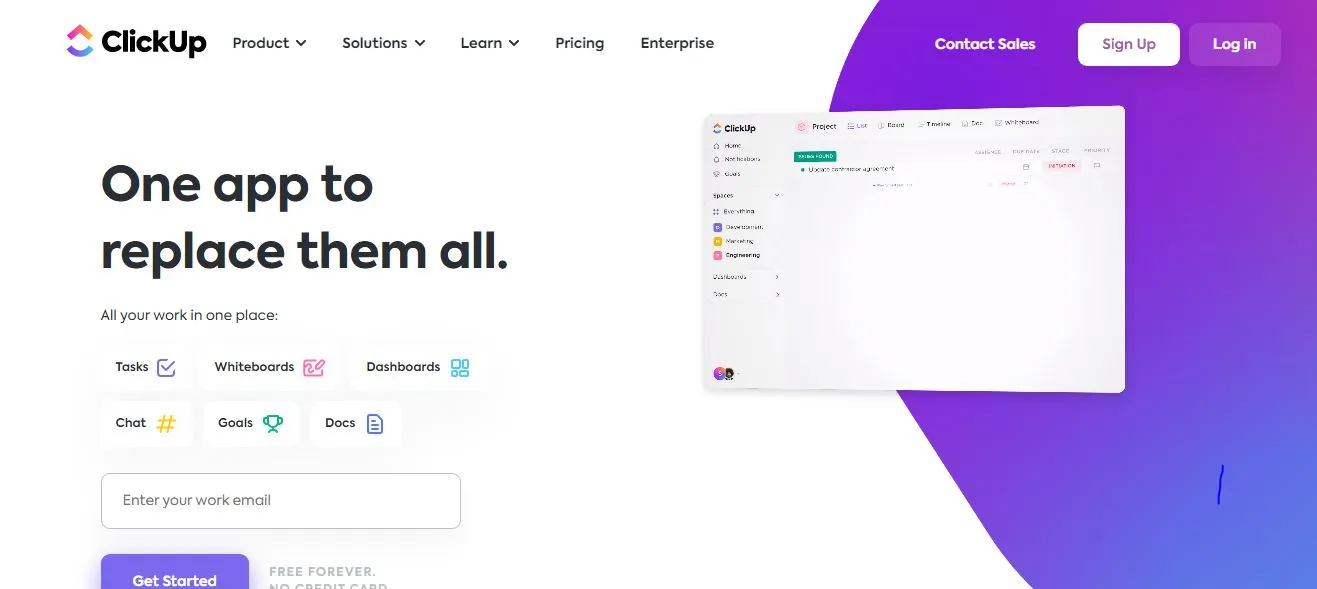 ClickUp is the AI website creator for the organizers, the planners, and the dreamers. It's not just a tool; it's a workspace. When you dive into ClickUp, you're entering a world where every detail matters.
Building a website with ClickUp feels like piecing together a puzzle. Each section, each page, and each feature fits perfectly. And the best part? You're in control. ClickUp's AI offers suggestions, but you make the final call.
Beyond design, ClickUp shines in functionality. It's built for collaboration, making it perfect for teams. Whether you're working on a blog, an online store, or a portfolio, everyone stays in the loop.
And with its suite of productivity tools, from task lists to calendars, projects stay on track.
9. GoDaddy AI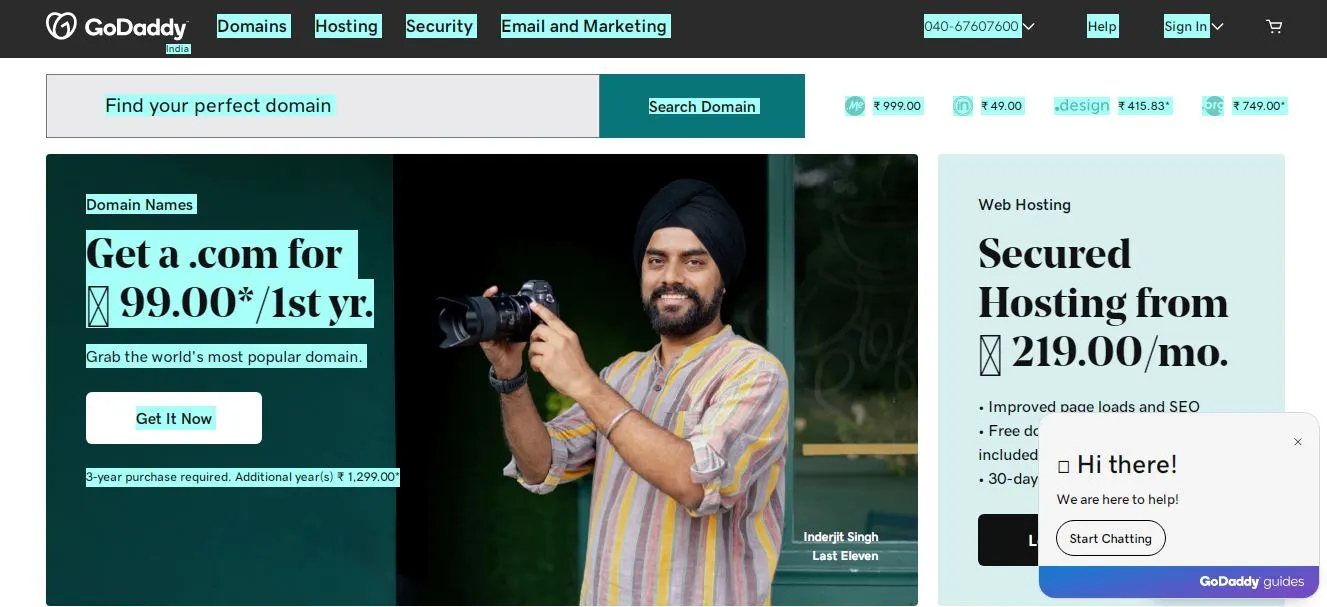 GoDaddy AI is the AI website creator for those who want to hit the ground running. Known for its speed and efficiency, GoDaddy ensures your website is up in no time.
You start by picking a goal. Maybe you want to showcase your art, sell products, or start a blog. GoDaddy listens and gets to work.
In minutes, you have a draft. But this isn't some cookie-cutter site. It's tailored to you, from design to features. And if you want to tweak things? GoDaddy's editor is a breeze, making customization simple.
But GoDaddy's true strength lies in its ecosystem. With its hosting services, domain registration, and marketing tools, it's a one-stop shop. Your website isn't just live; it thrives.
10. CodeWP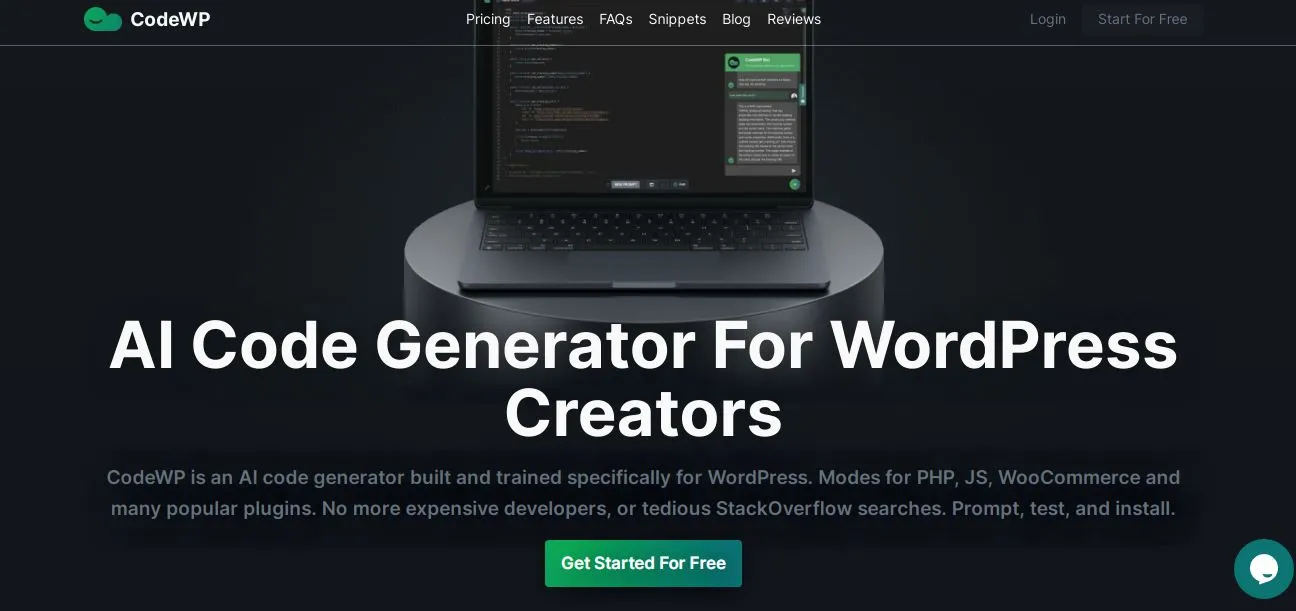 CodeWP is the AI website creator for those who love details. It's about precision, control, and crafting websites that stand out. When you dive into CodeWP, you're not just a creator; you're an architect.
Every element, from buttons to banners, is in your hands. CodeWP's AI guides the process, ensuring your site is both stunning and functional. And with its vast library of themes and plugins, the possibilities are endless.
But CodeWP isn't just for the pros. Its intuitive interface ensures even beginners feel at home. And with its community of users, help is always around the corner. Whether you're building your first site or your fiftieth, CodeWP is a trusted partner.
The Future of AI in Website Creation
The world is changing fast. And the world of websites? Even faster! With AI, making a website is no longer a big task. It's easy and fun. But what's next?
In the future, AI website creators will be even smarter. They'll know what you want before you do. Want a new design? AI will have ideas ready. Need to update your store? AI will do it in a snap.
But it's not just about making things. It's about understanding too. AI will know what your visitors like. It'll offer tips to make your site even better. And if there's a problem? AI will fix it before you even know.
So, get ready. The future of AI website creators is bright. And it's going to make the online world an exciting place!
Conclusion
So, there you have it! The world of AI website creators is big and exciting. From Wix ADI to CodeWP, there's a tool for everyone. Whether you're a newbie or a pro, making a website has never been easier.
But remember, the best tool is the one that fits you. Think about your needs, your dreams, and your goals. Then pick the AI website creator that makes them come true.
And as for the future? It's looking bright. With AI by our side, who knows what's possible? One thing's for sure: the world of websites is about to get even more amazing. So, jump in and enjoy the ride!
Here are a few other hand-picked articles for you to read next:
FAQs
Can AI create a website?
Yes, AI can create a website! Over the past few years, AI-driven tools have emerged that simplify the website creation process. These AI website creators use smart algorithms to understand user needs and preferences. By answering a few questions about your business or purpose, the AI tool designs a website tailored for you. It selects suitable layouts, color schemes, and even suggests content. This makes it easy for anyone, even without technical knowledge, to have a professional-looking website. It's a game-changer, especially for small businesses and individuals looking for a quick online presence.
Which AI makes websites free?
There are several AI-driven tools that offer free versions for website creation. One of the most popular is Wix ADI (Artificial Design Intelligence). It crafts websites based on user answers to a few questions. Another option is Bookmark's AiDA, which promises a website in under two minutes. While these tools offer free versions, it's essential to note that advanced features or custom domain names might come with a cost. However, for someone looking to start with a basic online presence without investing money, these AI tools are a great choice.
Does Google have an AI Website Builder?
Google has Bard-AI to build website. However, Google also offers various tools and platforms, like Google Sites, that allow users to create basic websites. While Google Sites isn't AI-driven in the same way as specialized AI website creators, it's user-friendly and integrates seamlessly with other Google services. Google's strength lies in its search engine, analytics, and advertising tools, which can complement and enhance websites built on other platforms.
What is the famous AI website?
When it comes to AI-driven website creation, Wix ADI is one of the most famous and widely recognized tools. It has gained popularity due to its user-friendly interface and the ability to produce tailored websites based on user input. Another notable mention is Bookmark's AiDA, which has garnered attention for its promise of creating websites in a short time. These platforms have made a significant impact by democratizing website design, allowing individuals and businesses to establish an online presence without the need for extensive technical knowledge or design skills.