Have you ever wished a video was clearer? Perhaps you've tried to improve a video clip but were disappointed with the results. If so, you're not alone.
With the rise of digital content, there is a growing demand for high-quality videos. Fortunately, thanks to the power of AI, enhancing videos has become easier and more effective than ever before.
The Rise of AI in Video Enhancement
AI Video Enhancers are capable of transforming grainy, shaky videos into crisp, cinema-quality masterpieces. This is important because videos play a crucial role in conveying messages and capturing moments in today's digital age.
With the sheer volume of content available, standing out can be difficult. However, high-quality videos are more engaging and effective at capturing viewers' attention.
Platforms such as YouTube and TikTok prioritize video quality in their algorithms, highlighting the importance of top-notch videos.
Why Video Quality Matters More Than Ever
AI has made significant strides in various industries, and its impact on video enhancement is truly groundbreaking. Traditional methods often fall short, especially when dealing with low-quality footage.
However, AI's ability to analyze and process vast amounts of data allows it to identify imperfections in videos and correct them in ways that were previously unimaginable.
This is particularly useful for enhancing old family videos or night-time clips that were previously too dark to make out anything. AI Video Enhancer can breathe new life into them, making memories clearer and more vivid.
The Importance of AI in Video Enhancement
A. How AI Helps in Video Enhancement
Have you ever noticed how some videos appear very clear and sharp? Well, the secret behind this is AI or Artificial Intelligence. AI is like a smart helper for videos. It can detect and fix many issues that make a video look bad. Let's dive in to see how AI Video Enhancer works.
AI is intelligent and has the ability to learn from different videos to know what a good video looks like. When it comes across a video with problems such as unclear images or poor quality, it fixes it by recalling how a good video should look like. AI Video Enhancer is an example of this smart way of fixing videos.
For instance, an old movie may have faded colors, spots, or lines on it. However, with AI Video Enhancer, the movie can be renewed to its original state. The colors can be made brighter, and the spots and lines can disappear. This may sound like magic, but it's real!
B. Why AI is Better than Old Ways
In the past, making a video look better was a difficult task, requiring the use of many tools and taking a lot of time. However, AI has made the process much easier. AI Video Enhancer is fast and user-friendly, and you don't have to be an expert to use it. The results are also fantastic!
Before the advent of AI, if a video was dark or blurry, it remained that way. But now, AI Video Enhancers can make a dark video bright and a blurry video clear.
Therefore, if you have a video that appears not to be good, do not worry. With AI Video Enhancer, you can make it look great without being a video expert. AI will handle the technical aspects for you.
Top AI video enhancer tools
1. PowerDirector

Many people use PowerDirector for video editing, and one major reason is the AI Video Enhancer. This feature enhances the clarity and brightness of videos, even if they're dark or blurry.
PowerDirector also supports 4K, which means your videos can be super clear. In addition, PowerDirector can stabilize shaky videos, which is especially helpful when recording while walking.
Even if you're new to video editing, PowerDirector is easy to use and has fast editing tools, as well as many cool effects to add to your videos.
When it comes to pricing, PowerDirector offers three different plans. The Basic Plan is affordable and includes the AI Video Enhancer and other useful tools, making it a good option if you're just starting with video editing.
The Pro Plan costs slightly more but includes support for 4K and additional effects. Finally, the Ultra Plan includes all the tools and features and is the best option, but it comes with the highest price tag. Choose the plan that best fits your needs and budget.
2. DVDFab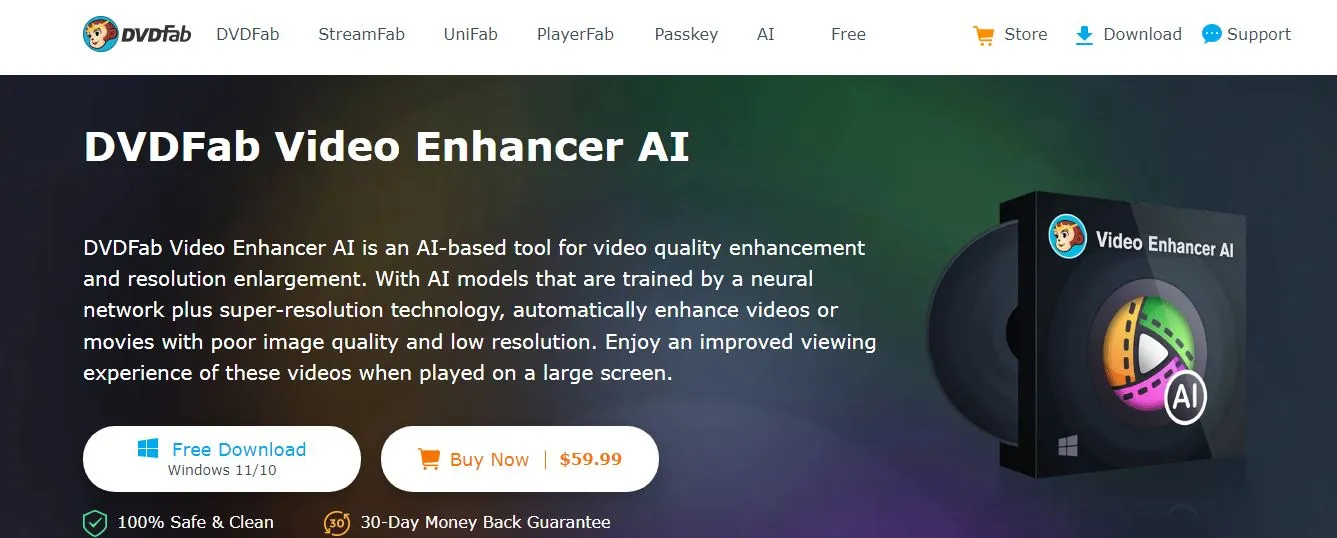 If you have old videos that are dear to your heart, but their quality has deteriorated over time, you don't have to give up on them. DVDFab offers a groundbreaking solution that can breathe new life into them.
With its AI Video Enhancer feature, it can enhance the clarity and sharpness of your videos, making them look like they were just shot yesterday. Whether it's a family reunion, a childhood memory, or a special event, DVDFab can help you relive those moments in the best possible way.
Even if you're not tech-savvy, you can use DVDFab with ease, thanks to its user-friendly interface. If you're looking for a simple yet effective way to restore your videos to their former glory, DVDFab is the perfect choice for you.
3. Splice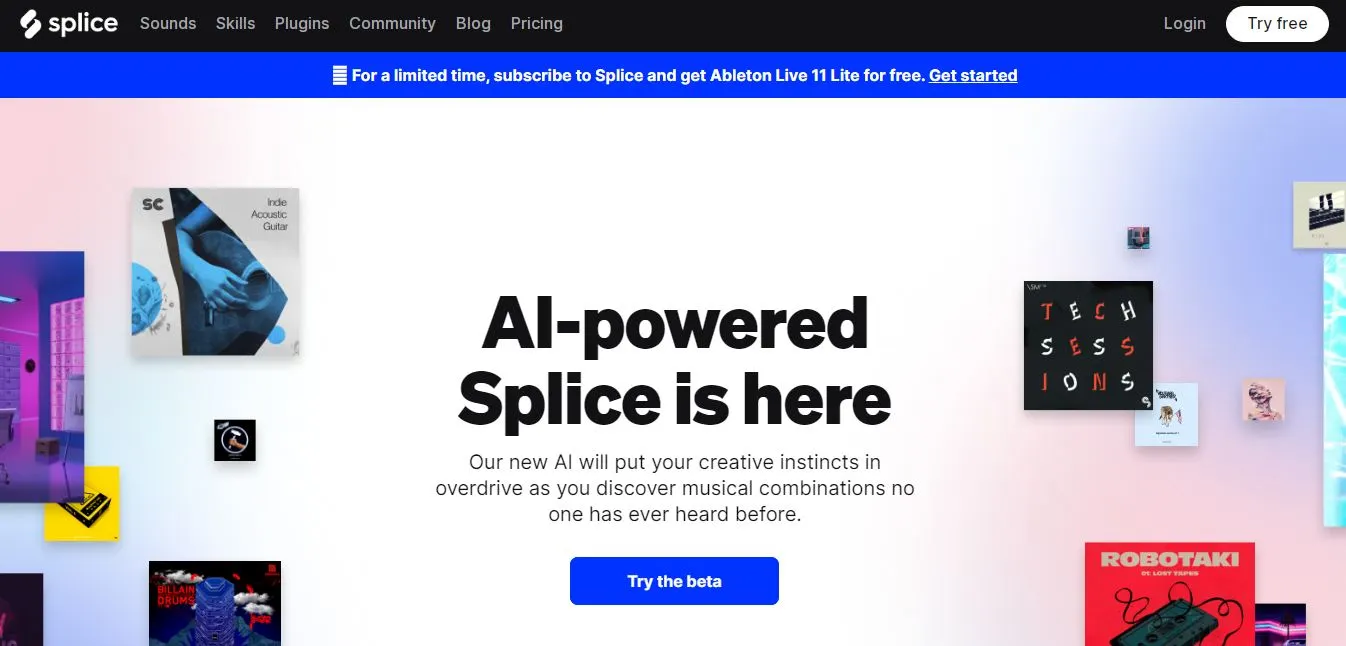 Do you have a video that you want to tweak? Whether it's from a birthday party or a fun day at the park, Splice can help. With Splice, you can easily zoom in on specific parts of your video and edit them to your liking.
And the best part? You don't need to be a tech whiz to use it. Splice is user-friendly and acts as a helpful assistant for your video editing needs. Moreover, with the AI Video Enhancer, Splice is even smarter.
It can analyze your video and suggest improvements, such as making it brighter or clearer. With Splice and AI Video Enhancer, your videos are sure to stand out.
If you're worried about the cost, don't be. Splice has a plan for everyone. If you're new to video editing, the Basic Plan is a perfect starting point. It provides access to various tools and the AI Video Enhancer, all at an affordable price.
However, if you're looking for more features, then the Pro Plan might be the right choice for you. It's packed with even more tools and features, like a satisfying dinner.
And if you want access to everything, including dessert, then the Master Plan is your best bet. So, take some time to think about your needs and choose the plan that works best for you.
4. HitPaw Video Enhancer

Have you ever watched a cartoon and been amazed by how great it looks? That's the kind of enchantment that HitPaw Video Enhancer AI brings to your videos.
It's like a special wand that enhances your videos and makes them stand out, especially if they contain cartoons or faces. HitPaw knows exactly what to do to make them appear crystal clear.
The secret to this is the AI Video Enhancer, which takes your videos and gives them a fresh, new look, free from any fuzziness or noise. With HitPaw and the AI Video Enhancer, everything appears crisp and vibrant.
You might think that such magic comes at a high price, but HitPaw makes sure that it's affordable. They offer a plan called the Beginner's Delight, which includes some of the magic, including the AI Video Enhancer, and is perfect if you're new to the video world.
However, if you're looking for more, there's the Enchanter's Pack, which has all the tools, features, and of course, more of that amazing AI Video Enhancer magic. And for those who want it all, there's the Magician's Vault.
It's the ultimate package and includes every bit of magic that HitPaw has to offer. So, choose the magic that suits your needs and let your videos shine!
5. AVC Labs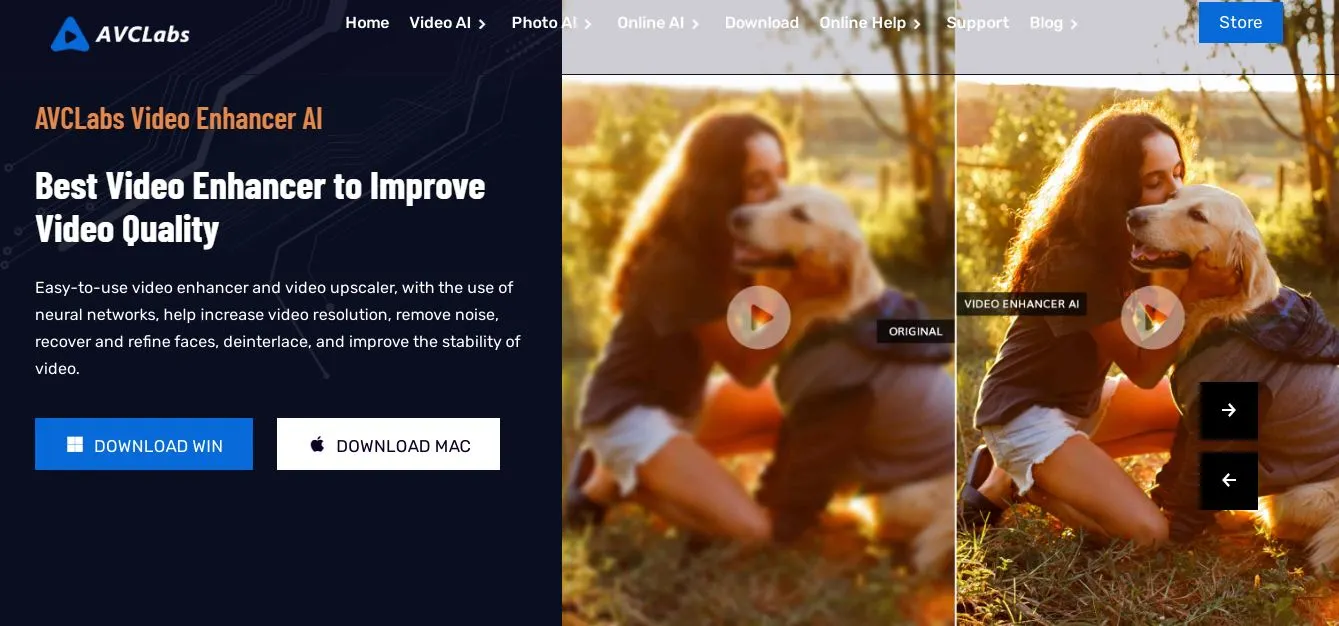 Have you ever come across an old movie that's not as bright and clear as the ones we see today? That's where AVC Labs comes in. They have a tool that can transform old films or TV shows into something that looks like it was made now.
It's like a time machine for videos, bringing old memories back to life. With AVC Labs and their AI Video Enhancer, faded and old parts of videos can be restored to their former glory.
You might think that time travel is an expensive luxury, but AVC Labs' Memory Keeper plan is affordable and perfect for those starting to relive their old memories. It comes with the AI Video Enhancer and other amazing tools.
On the other hand, the Time Traveler's Kit is ideal for those with a treasure trove of old videos. It has all the tools and features, plus a double dose of the AI Video Enhancer's magic. AVC Labs has everything you need to relive and preserve your precious memories.
6. VEED

Have you ever noticed strange background noises in a video you've watched? Such as a car honking or a dog barking? Well, VEED is here to save the day like a superhero for videos. Its AI Video Enhancer detects these unwanted sounds and swiftly removes them.
This is because VEED's AI technology is smart enough to distinguish between good and bad sounds. However, VEED does not only focus on sound quality, it also aims to make your videos look professional and TV-worthy. By using VEED and its AI Video Enhancer, you can ensure your videos will look and sound their best.
Are you interested in this video superhero, but worried about the cost? Fear not, as VEED has created a plan called SoundSaver for those seeking to improve their video's sound quality.
The plan includes the AI Video Enhancer and various tools to enhance sound quality. It's an ideal option for those starting out in video editing. However, if you're planning a grand project such as a movie, VEED has got you covered with the MovieMaker Pack.
This pack has everything you need to make your video's sound and visuals perfect. Plus, it also includes the magical AI Video Enhancer. It's the perfect option for those who aspire to create exceptional videos.
So, whether you're editing a small or large video, VEED is always ready to lend a helping hand.
7. Wondershare Filmora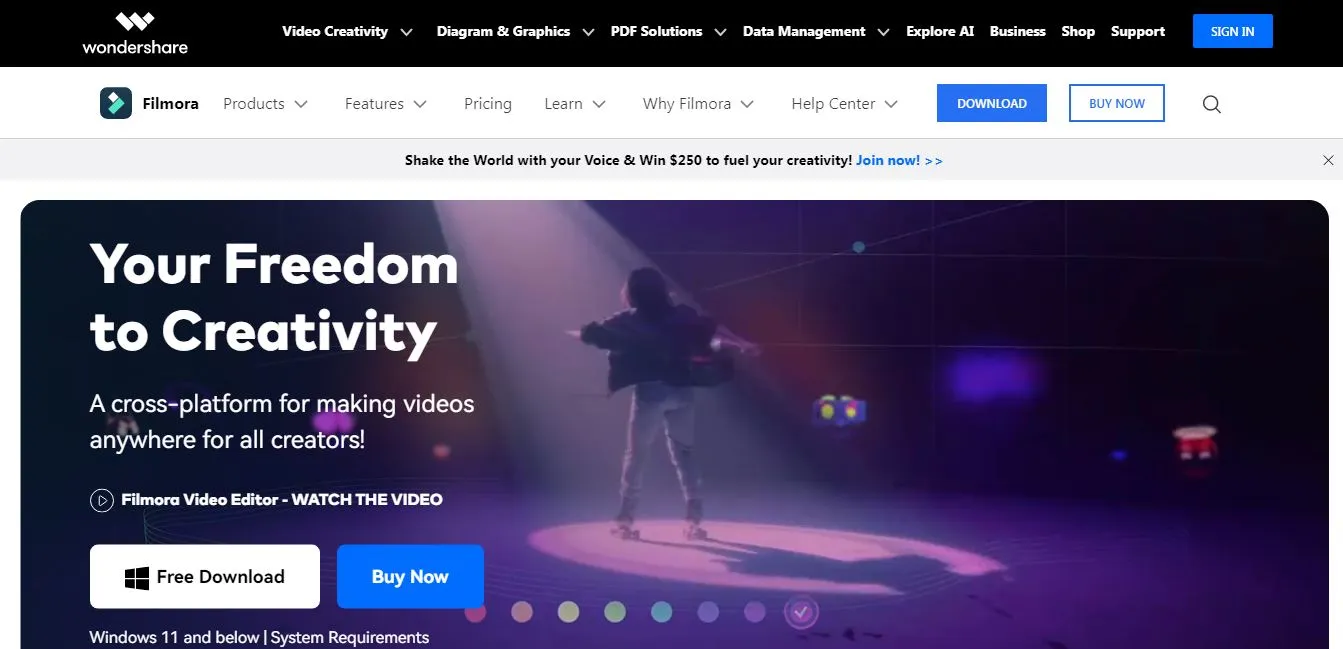 Imagine you're creating a video and you want to add some special effects or fun stickers to make it unique. That's where Wondershare Filmora comes in.
It's like an artist's palette for videos, providing you with all the colors, brushes, and tools you need to create a masterpiece. The star of the show is the AI Video Enhancer, which adds a sprinkle of magic to make your videos look amazing.
Plus, if there are people in your video, the AI Video Enhancer can easily find them. With Wondershare Filmora, your videos become more than just videos; they become works of art.
You may be wondering if all of this comes at a high cost. But Wondershare Filmora has a surprise for you. They offer a plan called ArtMaker, which is perfect for those who like to experiment.
It includes the AI Video Enhancer and lots of fun tools, like a basic paint set. However, if you're a pro, the Masterpiece Kit is the way to go.
It includes everything you need, from all the colors and brushes to the AI Video Enhancer magic. It's like having your own personal art store. No matter if you're just doodling or creating a big canvas, Wondershare Filmora has got you covered.
8. Topaz Video Enhance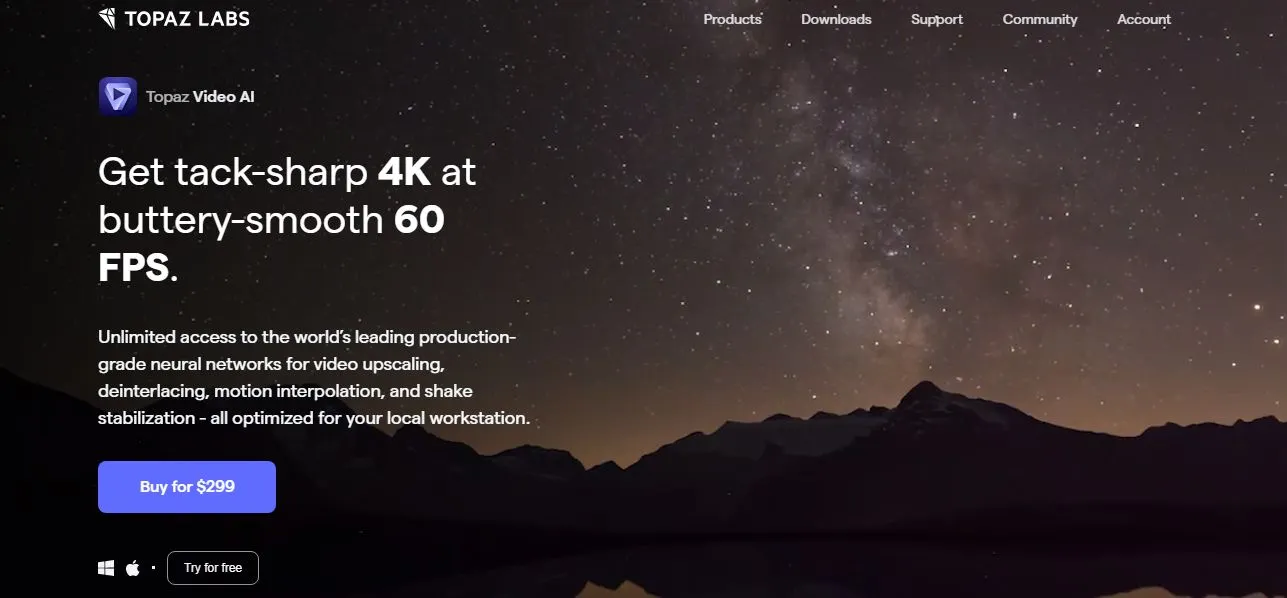 Have you ever looked at the night sky and wished you could see the stars clearer? Topaz Video Enhance AI does that but for videos. It takes videos that might look a bit blurry and makes them super clear. It's like having a telescope for your videos.
And the secret behind this? The AI Video Enhancer. With it, even the tiniest details in your videos become clear. It's like spotting a distant star on a clear night. And if your video has some parts that look broken or damaged, don't worry.
Topaz has a repair tool. And guess what powers it? Yep, the AI Video Enhancer. With Topaz, your videos will shine bright, just like stars.
Now, a telescope for videos sounds pricey, doesn't it? But Topaz has a sweet deal. They have a plan named StarGazer. It's for those who want to make their videos more straightforward. It comes with the AI Video Enhancer and some other cool tools to make videos shine.
It's a good deal for those who are just starting their video journey. But for those who want the whole night sky, there's the Galaxy Pack. This one's loaded.
It has all the tools, all the features, and of course, the AI Video Enhancer magic. It's for those who want their videos to be the best. So, whether you're looking at one star or the whole galaxy, Topaz is here to help.
9. Remini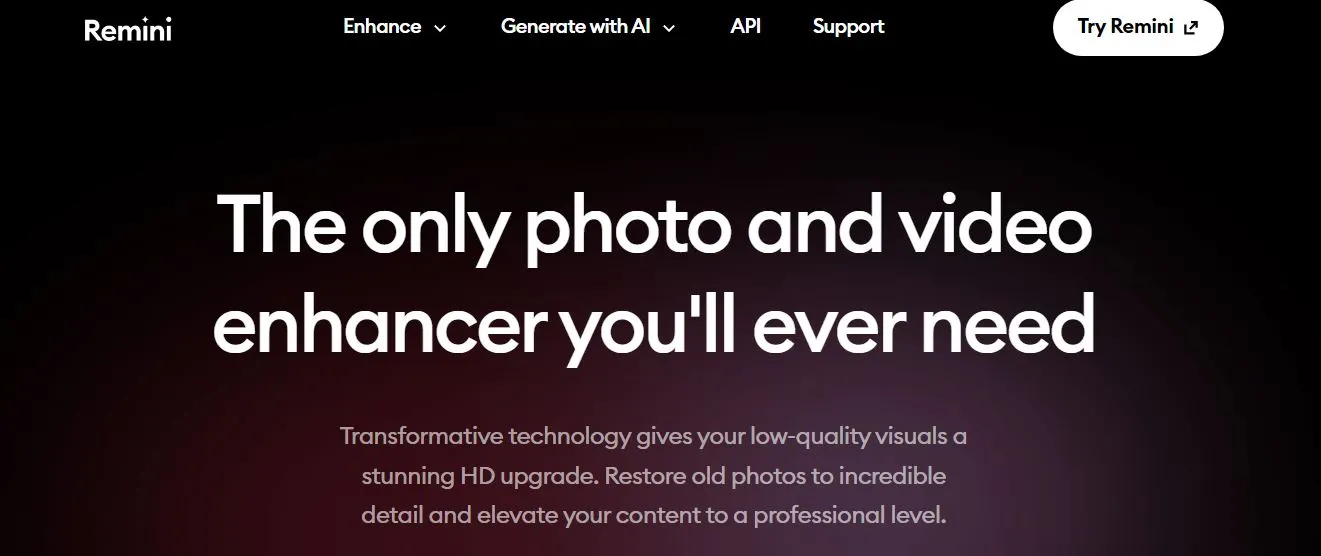 Do you have any old photos or videos that are a bit blurry? Remini is like a friend who can help you clean them up. It takes your old memories and makes them clear again using advanced AI technology.
With Remini's AI Video Enhancer, it's like magic! It analyzes the blurry parts and sharpens them to make your old memories look like they were taken yesterday.
Memories are priceless, and Remini understands that. That's why they offer MemoryMender, a plan for those who have a few old photos or videos. It includes the AI Video Enhancer and other tools to make your memories crystal clear.
It's perfect for taking a trip down memory lane. If you have a lot of memories, Remini offers the TimeCapsule Pack which has everything you need, including all the tools, magic, and, yes, the AI Video Enhancer.
It's ideal for reliving every moment. So, whether you have a few memories or a whole album, Remini has got you covered.
10. Dain-App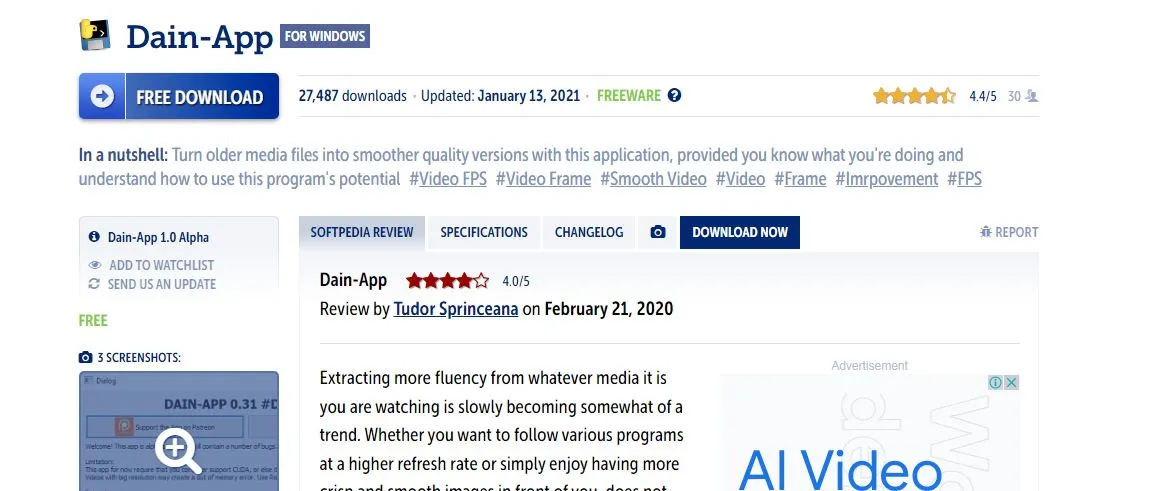 Have you ever watched a video that seemed to skip around a lot? If so, Dain-App is the perfect solution for you. With this app, your videos can be as smooth as watching a professional dancer glide effortlessly across the floor.
The secret behind this technology is the AI Video Enhancer within the Dain App. This clever tool can detect where the jumps are in your video and smooth them out to create a seamless viewing experience.
But don't worry about breaking the bank for smooth videos. Dain-App offers a plan called SmoothSaver, which is perfect for those who want to fix a few videos. It includes the AI Video Enhancer and other tools to help make your videos look polished.
It's a great option for beginners. However, if you want a full, smooth experience, the GlideMaster Pack is the way to go. This package includes all the tools, smooth moves, and, of course, the magic of the AI Video Enhancer.
It's perfect for those who want their videos to be super smooth. Whether you have a small fix or a big project, Dain-App is always ready to help.
11. Pinnacle Studio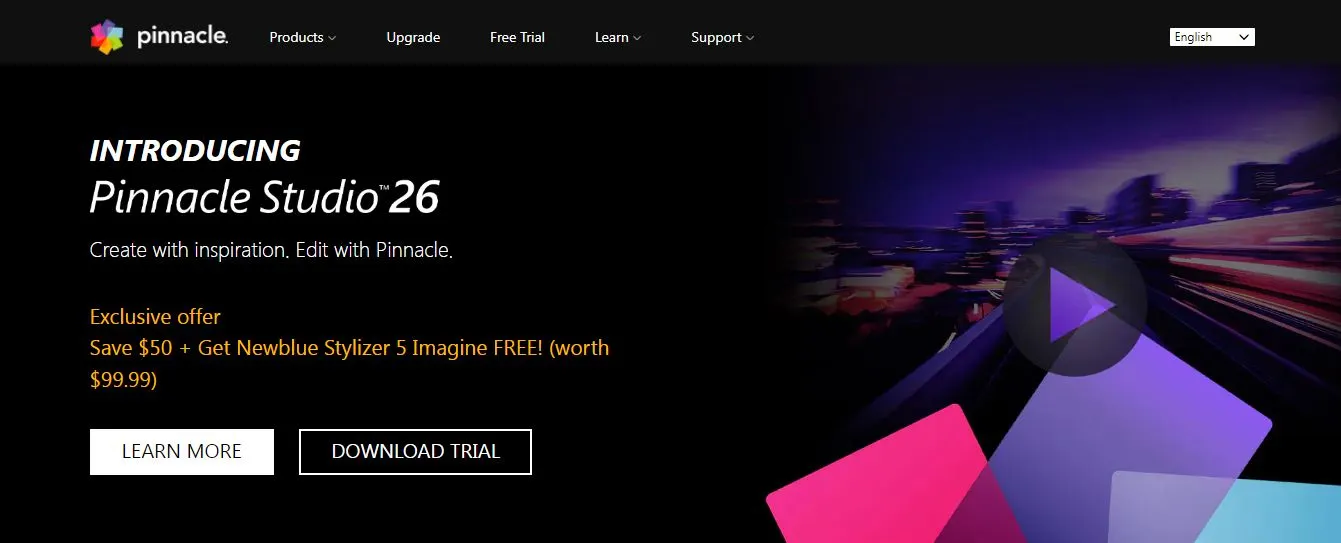 Pinnacle Studio is a remarkable video editing tool that offers advanced AI-powered features to enhance your videos. With these features, you can take your videos to the next level by elevating them to a cinematic standard.
It doesn't matter if your videos have dark scenes, shaky clips, or dull colors because Pinnacle Studio can fix them all with finesse.
Moreover, Pinnacle Studio is designed with an intuitive interface that makes it easy for beginners to create professional-looking videos. So, if you're looking to enhance your video editing skills, Pinnacle Studio is the perfect tool for you.
12. Aiseesoft Video Enhancer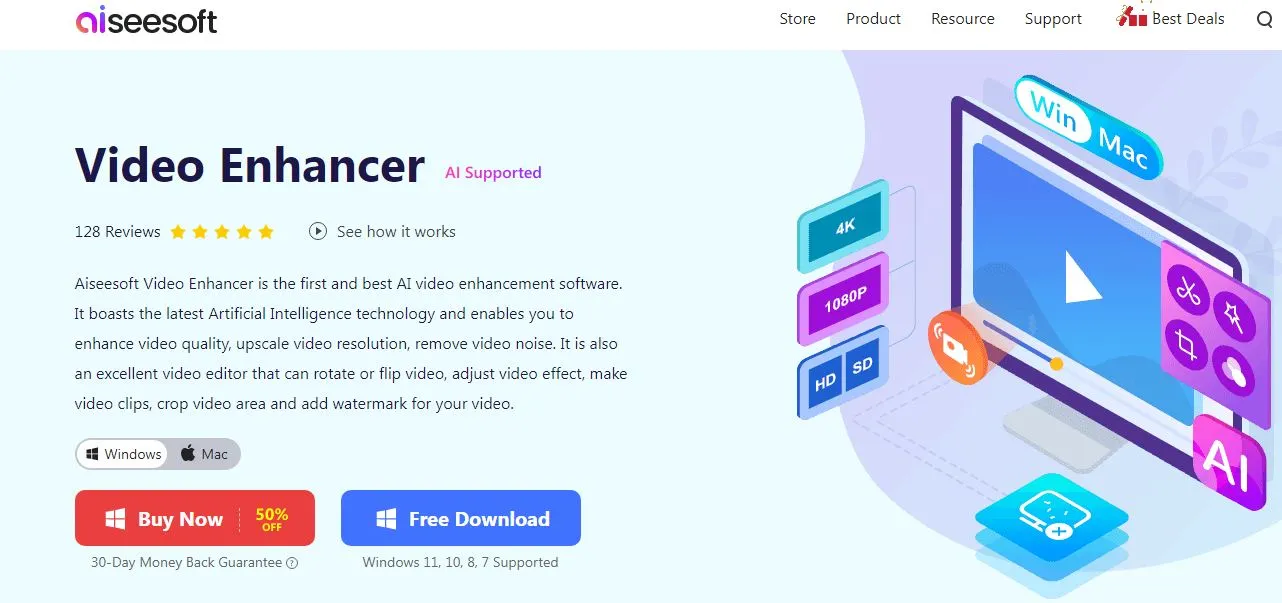 Are you on the lookout for a dependable video enhancement tool that can cater to your every need? Look no further than Aiseesoft Video Enhancer.
This incredible tool boasts top-of-the-line AI-powered video-enhancing features that can effortlessly transform unstable, color-drained, or noisy videos into stunning masterpieces.
What's more, its user-friendly interface ensures that even those without much technical know-how can use it with ease. Indeed, Aiseesoft Video Enhancer is the perfect choice for anyone seeking a powerful yet accessible video enhancement tool.
How to Choose the Right AI Video Enhancer for Your Needs
Are you looking to enhance your videos and make them look amazing? The first step is to identify what you need. Do you want to clear up blurry footage or fix shaky shots? Or maybe you want to bring an old video back to life?
Knowing your requirements will help you select the right AI Video Enhancer, similar to shopping for shoes. You need to know your size and style, and there's an AI Video Enhancer that fits just right.
A. Budgeting for Brilliance
While we all want the best, sometimes we have a budget to maintain. But fret not, as there are AI Video Enhancer tools available for every budget.
Some have all the fancy features, like high-end sneakers, while others are simple and get the job done, like comfy slippers. The key is to find the one that offers the most value for your money. Remember, expensive doesn't always mean the best, and sometimes a straightforward AI Video Enhancer can work wonders.
B. Playing Well with Your Devices
You may have found the perfect AI Video Enhancer, but will it work on your computer or phone? Some tools are like cats, picky about the homes they live in, while others are like friendly dogs and happy anywhere.
So, check if the AI Video Enhancer you like works on Windows, Mac, or mobile. It's like ensuring your new pet will be comfortable in your home. With the right AI Video Enhancer, your videos will be purring (or wagging) in no time!
The Future of AI in Video Enhancement
A. A Glimpse into Tomorrow
Have you ever thought about what the future holds for videos? Thanks to the constant improvement of AI Video Enhancer tools, we have reason to be excited.
Imagine watching a movie from the 80s but feeling like it was made yesterday, thanks to the magic of AI Video Enhancer tools. And this is only the beginning. There are many more developments on the horizon.
B. New Ways to Watch and Enjoy
In the future, AI Video Enhancer may allow us to watch videos in ways we never thought possible. We might be able to enjoy 3D movies at home without needing special glasses or experience videos that feel so real, we can almost touch them.
As AI Video Enhancer tools continue to learn and improve, the possibilities are endless. It's like teaching a child to ride a bike. They may stumble at first, but soon they'll be zipping around like a pro. The same applies to AI Video Enhancer tools.
C. Changing the Game for Everyone
What's even better is that everyone will benefit from these advancements. Movie makers, YouTubers, and even people at home can create high-quality videos with ease and enjoyment using AI Video Enhancer.
You won't need an expensive camera or complicated software. All you need is your phone, an AI Video Enhancer tool, and a story to tell. The future of video is approaching quickly, so get ready for an exciting ride.
Conclusion
Throughout our lives, videos have become an important aspect. We watch them for entertainment, education, and to reminisce about good times. However, not all videos are flawless.
Some are shaky, blurry, or outdated. That's where AI Video Enhancer tools come in. It's like a magical wand for videos. With just a few clicks, it can transform a poor video into a masterpiece. The best part is, it's improving daily. Thanks to AI Video Enhancer, the future of videos is full of potential and excitement.
The best part about AI Video Enhancer is that anyone can use it. You don't have to be a professional movie director. Whether you want to make your holiday videos appear like a Hollywood movie or restore old family videos, AI Video Enhancer can accomplish it all.
Video enhancement is more than just enhancing the visual quality. It's about preserving memories, telling stories, and sharing moments. With AI Video Enhancer, you have the power to make every moment special.
In conclusion, videos are more than just moving images. They represent cherished memories, stories, and moments. With AI Video Enhancer, they can be even more special. So, don't hesitate to explore the tools, experiment with the features, and make your videos shine. The future of video is here, and it's brighter than ever, all thanks to AI Video Enhancer.
FAQs
Is there an AI video enhancer?
Yes, there are AI video enhancers available in the market. These tools utilize advanced artificial intelligence algorithms to improve the quality of videos, correct imperfections, and enhance overall clarity. They can upscale resolution, reduce noise, and even stabilize shaky footage, making them invaluable for both professionals and hobbyists.
Can AI make a video 4K?
Absolutely! AI-driven software can upscale videos to 4K quality. By analyzing the existing pixels in a video and predicting what additional pixels are needed, AI can effectively increase the resolution, making videos sharper and clearer.
Can AI replace motion graphics?
While AI can assist in creating motion graphics by automating certain processes, it's unlikely to fully replace the creativity and expertise of human designers. Motion graphics involve artistic decisions, storytelling, and design principles that AI can't replicate entirely. However, AI can speed up the workflow and handle repetitive tasks.
Which AI can increase resolution?
Several AI tools can increase video resolution. Popular choices include Topaz Video Enhance AI, Neural Networks-based solutions, and offerings from companies like Adobe and NVIDIA. These tools analyze the video's content and use deep learning models to add details, making the video clearer at higher resolutions.